Remote control is an accessory that can lost easily and you will have to get up to turn on or off your ceiling fan. It would be great if you could control your fan and light kit by using an app without getting up? Here is how you can do it.
It is not possible to control normal ceiling fans by app. However, smart ceiling fans and conversion kits are available for normal ceiling fans that can help you to control them through phone apps and home assistants like Google and Alexa.
Let's get started to see more options for you below.
Is There An App To Control Ceiling Fans?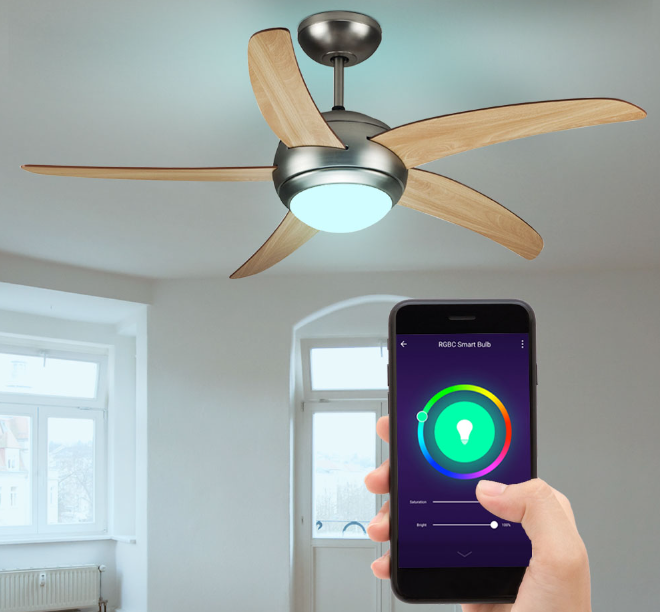 To control your ceiling fans, smartphone app is available. Even Alexa can also control them. However, it all depends on the fan you are using. A normal ceiling fan can be controlled by a remote, wall switch, or pull cord and that is all.
However, if you're looking for a new one, the certain options for smart ceiling fans are present. The kits are also available that help you to connect your 'dumb' ceiling fan to Alexa or another digital assistant and you can control it by app.
So, most ceiling fans cannot be controlled by a phone app, in this modern age, the new fans are controllable by app and there are conversion kits that help you to turn a normal ceiling fan into a smart fan. Let's have a look at both these options in this guide.
Recommended: What type of ceiling fan control is best for you?
Smart Ceiling Fans
If you are looking for a new fan and you want to get the app control feature, smart ceiling fans are the best option to do it. a fan that is made to be smart enabled will give the best experience. The other solutions in this guide will work but they are universal solutions so it might not be compatible with all ceiling fans. By getting a smart ceiling fan, you can be at east to know that everything will work properly after getting it.
Your fan will be produced smart by the manufacturers in a slight different ways. Most of the fans can be controlled from Wi-Fi as they are WiFi enabled and you can link it to other smart home controllers including Alexa but some of them need the installation of their own app to control it. The process is simple as well as pain free for the users.
In my opinion, the coolest smart fan is the Vortex. The looks of the unit are futuristic and contains all the control options one can need. A wall switch or remote can be used to control it but you can also use your Bluetooth and phone and WiFi too. It can be used indoors or outdoors as it is wet rated and equipped with a high-quality DC motor that is energy efficient as well as quiet in operation.
If you want to make your house smart and also desire to get app controlled lights and other appliances in your home, you should check the shop that sells the Vortex fan. They are replete with the range of smart fans; light and other things that you can control from their own app.
Make A Normal Ceiling Fan Phone Controlled
It will be more interesting for home owners to turn a simple ceiling fan into smarter one. It is not essential to purchase a whole new unit if you want to operate it from your phone. Changing your perfectly working fan is not necessary and also waste of money. However, if your fan has to be replaced, I recommend you go for a smart fan to have a better experience. Smart fans work smoothly from the very beginning of their usage.
However, that doesn't mean you cannot make something else fine if you have the appropriate material. You can use two good ways to select. Both have a smart assistant like Google home and Alexa. However, all solutions do not ask for the use of the hub. Fortunately, neither of these solutions are very costly.
Here are the two methods you can add phone control to your normal ceiling fan:
Smart Wall Switch
The first thing is to obtain a smart wall control panel that replaces the existing one. It is ideal if you are using a ceiling fan that is currently controlled by a wall panel or if you have a power housing where the fan's wiring comes from. However, if your existing ceiling fan has a remote and does not have a wall switch, you should consider the second option below which is better one. It is due to incompatibility of the wall switch, it is not always compatible.
The advantage of this type of switch is that both controls can be used, wall controls as well as phone app so you get two choices. The wall panel comes with buttons for the fan, light and speed levels control. The same options are available on your phone for control.
The TreatLife smart wall switch is an ideal and popular option to consider in this category. It looks clean and works well and modern. It might be better than the wall control panel currently you are using from an older fan.
You do not have to use Google hub or Alexa to make the switch functional as the app connects to it directly. However, if you use a smart home hub, voice control can also be used.
WiFi Controller
The next option is to add a little Wi-Fi receiver and fan controller to your unit. These are the boxes you wire in and they are left in the fan canopy. You need to ensure that the canopy of the fan has enough space to fit the box. The wiring process is easy.
You do not have to change the wall panels or power outlets to use these Wi-Fi controllers and they are also very easy to install. With the help of a smart life app, the controller will be connected to your phone directly but if you link it with Alexa or Google Assistant hub, it can add voice control to the fan.
The kits are also available with a normal remote control too. Some people consider a positive thing and others not. But you have got the option.
This Aubric WiFi fan controller is easy to afford and works too. The installation is easy and a remote control is also included. It can be used to control 3 speeds of fan and can also control the light, on/off. However, there is no dimmer feature for the light is there.